On the day that followed our Benguet-Ifugao border crossing (read in this
link
), our kickass team that includes the likes of Dr. Gideon Lasco and the great Koi Grey hiked up a kickass mountain. Gosh, I still can't believe I hiked with these great people, woohoo! And guess what, with these awesome people, we've accomplished a traverse of Mt. Napulauan in just a single day, instead of the usual 2-day itinerary. Bragging aside, Mt. Napulauan is indeed a kickass mountain,with its dense forest trail, where 80% is moss-covered and has a mystical atmosphere, I probably won't think twice for a second go.
____________________________________________________________________________
Sunday - December 29, 2013
Despite having a short sleep inside our cute native Ifugao huts, our team had to wake up at 4 in the morning for this much awaited mountain adventure. Our supposed guide for this hike had been too reluctant and negative about our planned 1-day hike, saying that it was never done before. That's why we had to make adjustments in our itinerary, and start really very early.
At 5 AM, we're all set and ready. We called our guide to come over so we could proceed already, but he arrived late and only to announce he can't join us. Holy cow! But he promised, someone will come in his place.
the kickass team, still waiting at 6 O'clock.
(L-R: Koi, Doc Gideon, Coby, Daryl, Vince, Josh, Terence)
At 6:20 AM, somebody finally showed up.
Hurrah
. But that also means we're an hour and 20 mins late, but that's just fine. Right away, we began threading our way to the mountain's trail. We passed by the houses then on the sides of terraced slopes. We eventually came out to a shrubby, ferny, grassy trail.
ferns, shrubs, and grass, make up the early parts of the trail.
Spotted below us was one of Hungduan's pride. All the clusters of terraces in the municipality of Hungduan is a UNESCO World Heritage site.
We went up a continuous ascending trail,
nakakahingal
, while enduring the embrace of Ifugao's chilly morning breeze. But it did not take too long, after an hour and 10 mins the whole team arrived at Ny-o Campsite. Thanks to our colleagues who really performed and pushed the rest of us to pace up.
Arrived at Ny-o campsite. The chilly foggy morning prevented us from getting the daily dosage UV rays. At wala kaming makitang view at full 360.
Following the 5 mins break at Ny-o campsite, we entered a much denser woodland with hints of thick moss cover. And again, the trail was continuously ascending. More and more, as we go higher in altitude, and deeper into the forest, the moss cover of the forest grew thicker and greener. I know from that point, we've just entered the zone of mossy forest.
ascending a dense mossy forest
Being a fan of mossy forest trails, I would, most of the time, express thrill and excitement in each step I make, and probably can push further with little physical exhaustion. I'm not sure why, but I really enjoy trekking through mossy forests.
With its extensive mossy forest, I have a great affinity with Mt. Napulauan.
Napulauan is a huge chunk of mossy mountain.
Except those abrupt steeps which doesn't really last long, the trail is generally manageable within the first 2 hours after Nay-o campsite. And it was not really that exhausting, thanks to the cool climate. It continued, with several ups and downs, until we reached the obstacle course at around 10 AM (or 3 hours after passing Nay-o campsite).
don't be surprised to meet sudden steep ascending trails.
a portion of log jam and obstacle course will also be met.
By having a small pack at your back while negotiating through the hurdles of vines, branches and whole chunks of toppled trees, mobility could be less a trouble. That's what I like in doing dayhikes, aside from the very fact that the load you are carrying is actually light. That also equates to appreciating more the beauty of the place we are going through.
I was so captivated by the mystique of Mt. Napulauan's forest. Yes, it may not look so unique as it has a great resemblance to Pulag's Tawangan Trail or Purgatory's lengthy zone of mossy forest, but definitely, Napulauan has bested the two in terms of distance and enormity of its mossy trail.
Limatiks also began to appear at the point we entered the obstacle course. Actually, these tiny nuisance have been a part of my 2 years journey in the mountains, and quite frankly, I don't care anymore if they give me a bloody kiss.
At some point past the obstacle area, our guide mentioned that the summit is less than an hour away. And it's already within our sight.
The summit of Mt. Napulauan. Konting tambling na lang!
From that point, a quick march on a straight forward trail followed by an overgrown and narrow descending trail, then up again through a thick mossy trail, eventually brought us to the summit.
the great Koi Grey, threading the trail to the summit
It was 11 AM when we reached the summit of Mt. Napulauan. It was foggy, but would clear up from time to time, but that wasn't enough to reveal the nearby mountains. Given a very clear day, Mt. Pulag should appear to the south.
The summit has a small clearing, with a rock marker indicating the highest point of Mt. Napulauan. Also found in the summit area is a small tree which has become the photo booth of all Napulauan hikers. We were somehow forced to have a photo with it or else "
you-did-not-reach-Napulauan-unless-you-don't-have-a-photo-at-the-tree
."
yours truly at the famous Napulauan Tree
the whole summit area. Quite resembles Mt. Tapulao

, right?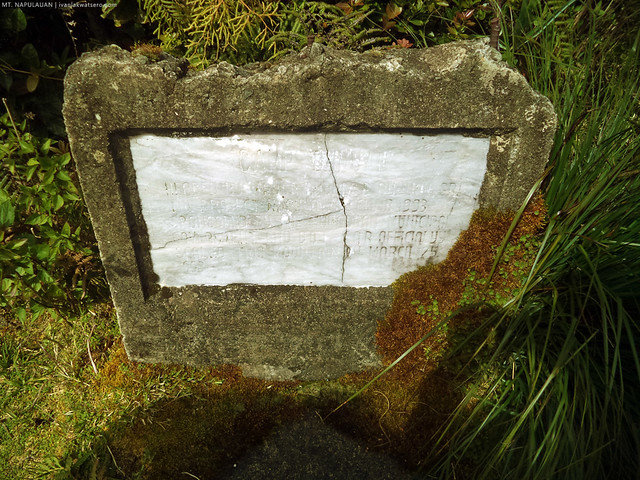 the rock marker of the mountain's summit
It's here that we decided to eat our lunch. One hour break for the famished kickass team. The summit area is perhaps the next ideal campsite after Nay-o, because no other area with wide open clearing exist between the two. And a water source can be found not too far from the summit. At midday, we felt the low temperature at the summit area, so what more if it's in the middle of the night.
Everyone seemed to be charged up after the lunch break. It was already 12 noon, and we all know there's still a very long way ahead of us. We can't petiks just yet.
prepping to continue the hike.
All the trail beyond the summit is purely descending. The environment remains the same or perhaps even more intense. I can never forget how lively the flora was, how the colors and shapes harmoniously complement each other. And of course, the thick moss that cover most of the exposed surfaces. A stunning masterpiece by nature.
a haven of plant species
We were then greeted by thicker moss which is, for me, the best part in the whole traverse.
It would be painful to miss all these goodness so we'd rather just stroll and pause at some parts to take photos. But later on, when sir Daryl and Koi Grey started pacing up, I was left with no choice but to keep up. I must say, their heels were blazing in speed. And to think that the great Koi Grey was injured at that time. Whew,
halimaw talaga ng trail running
.
The trail has gotten slippery when the clouds started to burst in tears, but we carried on. Also because of the downpour, the sleeping guardians of the trail were awakened. Waaah, limitaks all over the place! Mt. Napulauan just gained a spot in my top limatik-infested mountains list.
When sandwiched by two swift-moving hikers: Koi Grey ahead of me, and Sir Daryl just behind me, I was left with no other option but also to pace up. Pressured!
limatiks! there were plenty of it everywhere.
Our non-stop descent along Hapao trail eventually led us to,
guess where
, of course, Hapao Village. But before that, upon exiting the grand mossy forest, we arrived at a very very slippery mud trail. My butt slammed a couple of times.
ahh, the extremely muddy trail, en route to Hapao Village.
By 4:50 PM, after almost 5 hours of continuous descent, amazingly, Hapao Terraces came to sight.
FYI, Hapao Terraces is also a UNESCO World Heritage Site
. That also signifies that our traverse will soon come to an end.
The extensive terraces of Hapao Village. Another UNESCO World Heritage Site.
towards the end of our traverse, we descended the sides of this terraces.
I thought we would exit to the grand terraces of Hapao, but actually, at the end of our hike, we found ourselves in the highway. Perhaps, it would be the case if we took the other way (the leftward downward steps). Nevertheless, we finished the traverse by 5:20 PM.
Woohoo, another great mountain crossed our from the bucket list
!
Lucky to be able to catch a bus back to Hungduan Proper.
We went back to Hungduan Poblacion to rest and have a well deserved celebratory dinner, and also to spend another night inside the native Ifugao hut. Tomorrow's gonna be a very long day, but numbing ride back to Manila.
_____________________________________________________________________________
My biggest thanks to Pinoy Mountaineer, and the rest of the team. 'Twas an awesome year-end mountain adventure.
Happy 2 fruitful years of hiking to me!