I would have found myself hiking in the historical Tirad Pass had the typhoon chose not to sweep the area a couple of days ago. The precipitation it brought had caused the rivers in the area to rise, making the only passageway to the jump-off not passable, and thus, a cancelled hike. I was about to unpack my stuff when
Pinoy Mountaineer
suddenly dragged me to join his hike somewhere else.
The hiking master said we will be day hiking Mt. Labo.
Mt. Labo eh?! A mountain which I honestly know nothing about.
Other than the fact that it is the highest in the province of Camarines Norte (
CamNor
), in my head, it's a big blank mountain.
______________________________________________________________________________
Saturday - September 14, 2013
5 o'clock in the morning when we arrived in the still sleeping town of Daet, Camarines Norte. That was after an 8 hour long travel by bus,
whew
. Well, we wouldn't travel that long if we weren't up for something. Our team of 4 went all the way from Manila to complete this "
never-been-done-before
" dayhike of Mt. Labo.
There have been several successful hikes to the summit of this mountain, but all of which were done in two days or more. Doc Gideon once again wanted to prove that it's also possible to hike the highest mountain in CamNor in just one day.
So, to be able to increase the success rate of this unprecedented dayhike of Mt. Labo, we started very early. As soon as we checked in and safeguarded our excess baggage in an inn in Daet, we traveled to Brgy. San Isidro, San Lorenzo Ruiz, the jump-off for this hike. Actually, it was not as easy as that. Since we're running short of time, we hired a whole jeep just for the four of us and Kuya Kulot (a mountaineer from Daet who accompanied us). Public transpo was also available, but time constraints made us drop that option. Big thanks to sir Melvic Briñas, the Calaguas tour operator (
and at the same time a relative of mine
), for assisting us.
It was past 7:30 AM when we arrived at Brgy. San Isidro where a man in the name of Tiong Ani greeted the team. He is the resident guide in the area who probably knows every inch of Mt. Labo. Perfectly the guy we need in this dayhike attempt. He excitedly welcomed us in his house (
where we registered
), he even offered us coffee... but when we told him about our plan (
a dayhike of Mt. Labo
), he hesitated. It was natural for him to doubt, and we understand, for he himself have not done a dayhike yet. But of course,
Doc Gideon
uttered, "
let's just see how far we reach. We will turn back at 1400H, summit or no summit
." This is actually his usual line whenever guides (or anyone) are being skeptical of his "shorter-than-usual" itineraries; but always, at the end of the day, he proves them wrong. At 8 AM, our team set off for the hike.
at Tiong Ani's place. This is the registration site. Reach Tiong Ani through this number: 09104051851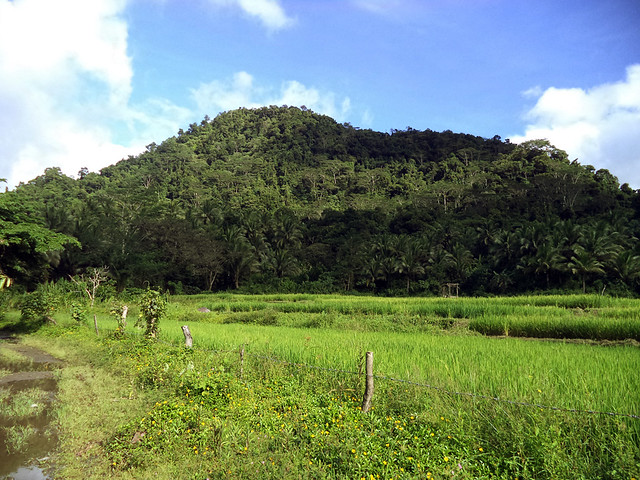 The weather was good enough that morning. Blue sky above us.
Early on, our hike ran through a wide rough road that passes by a vast agricultural land. I asked Tiong Ani if the summit of Mt. Labo is already within our sight, but he just smiled at me and said, "
no, we're still too far.
" Then after only about 15 minutes of brisk walking, the wide road degraded into a narrow foot trail, the farmlands can no longer be seen, and a thick jungle began to dominate the scene.
we're heading towards the jungle, and the sky has turned gloomy. Uh oh.
Shortly after we entered the jungle, we reached the spillway. We were lucky that no heavy rain had occurred previous to our hike, or else for sure, this part was impassable. The cool water from the mountain that flows through the spillway was refreshing, so we had our first break here.
The spillway. Would love to hang out here a bit more, kaya lang gahol kami sa oras. Push!
Past the spillway, the trail had become narrower, and the jungle, thicker. At some parts, the trail were obscured by the overgrown weeds and foliage. Also at some parts, blooming flowers cover the path. I, once again, asked Tiong Ani how far are we still to the summit, but I got the same answer, "
it's still far
."
without a guide, we will be lost most certainly.
Can you see the trail? of course not.
Another river was met past the dense jungle. Fortunately again, the water was flowing gently so we were able to cross the river almost effortlessly. However, it began to drizzle as soon as we reach the other side. Without minding the seemingly unfavorable weather, we continued the hike. Well, luckily, it did not progress into a downpour.
Beyond the second river crossing, the trail was again very obvious. The jungle, although still thick, was less dense than earlier. The resident limatiks of Mt. Labo also showed up in this leg of the trail, they were in number. But unlike the limatiks of the southern Tagalog mountains, the ones found here were not so clingy.
Isang pitik lang, tumatalsik na kagad
.
landslide blocking the path. so we walked over it.
greetings from the resident limatik
By 11:20 AM, just in time for lunch, we finally reached the campsite. However again, it was not the campsite that I was picturing in my head. Instead of a wide open clearing, we arrived at an overgrown swampy place. There was no open space at all. The entire place was mostly (if not totally) covered by thick foliage of bushes and trees. Well perhaps, during the heyday of geothermal explorations in the area, it was indeed an open clearing—
obviously, not anymore
. We just sat on some random fallen logs and there we had our good lunch break.
this overgrown place is the campsite before the assault to the summit.
Mt. Labo do not just display an array of colorful floral species (
a species of Raflesia is said to be present in this mountain as well
), during our lunch, we noticed that the mountain also harbors a lively fauna. Bugs and arachnids, with unusual body patterns, dominate the area. Being a biologist, this is a delightful sight.
Interesting spider spotted. Its size is half-a-palm.
This little fella would just crawl here and there. Pati sa pagkain ko gumapang siya.
It was after 30 minutes of lunch break that our team carried on with the trek. We were half way to the summit. From the campsite, the trail has turned steep and thickly vegetated. It was an ascent similar to Mt. Natib or Mt. Cristobal, but the jungle of this mountain was 10 notch thicker and greener.
greens! No doubt, this is the jungle mountain of jungleness
Nepenthes (Pitcher Plant) were also found along the trail
The closer we get to the summit, the mossier it gets; and I particularly enjoy this kind of environment. And with the cool atmosphere surrounding us, I never got tired of trekking through its trails. The trail was a lot easier on the final 200 meters of the trail. There were a few moss-covered fallen trees blocking the trail, but were just easily hurdled.
mossy jungle to the summit
mossy fallen tree blocking the trail
And then finally, at 2 PM, we successfully set foot on the highest point of Mt. Labo (
1,544 MASL as per Doc Gid's altimeter
). It took us roughly 2 hours from the campsite up to this point. It was foggy and drizzly by the time we arrived at the summit, so understandably, there was no chance of viewing anything from there.
to celebrate our success, we climbed one of the trees found at the summit. Photo ops!
and a group photo at the summit. from L to R: Doc Gideon, Sir Coby, Me, Tiong Ani, and Kuya Kulot, and also Arvin who was taking the photo.
Tiong Ani was really happy that, for the first time, the summit of Mt. Labo was reached in that short period of time—something that he initially thought was close to impossible. Well, the success of this hike surely made his day.
We spent only 20 minutes at the summit for we all know that we still have a long long trail back down. After all the photo ops, we left the peak and began descending Mt. Labo, through the same trail we used in our ascent. We're a bit tired from the day's hiking but we had to get back to where we started.
night time caught up with us. Our pace significantly slowed down by the absence of daylight and of course our exhausted limbs.
Finally, by 7PM, we were all back at Brgy. San Isidro in one piece. Whew! Another successful day hike. This was probably my longest dayhike as of yet. Moments later, our rented jeep to bring us back in Daet arrived to pick us up.
Check out Doc Gideon's account of this hike in his Hiking Matters #367. And details are in his Mt. Labo profile page.